A busy year for the Network's Workstreams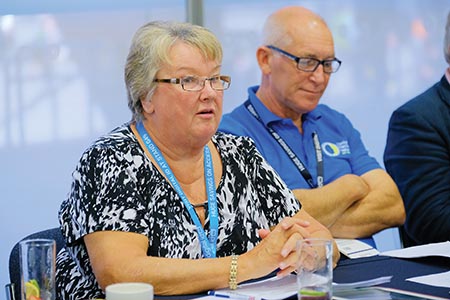 Speaking at the Design in Mental Health Network's 2018 AGM at October's Healthcare Estates 2018 event in Manchester, the DiMHN's chair, Jenny Gill, explained that all the DiMHN Workstreams had had a very busy year.
She said: "This year have a new 'International' Workstream – headed up by Alessandro Caruso, while the Stakeholder Engagement workstream has been busy; at the time of writing, the Stakeholder Engagement Toolkit, the third in our series of 'Design with People in Mind' booklets, is set for launch. Outlining a series of tools to assist in fully engaging with the Stakeholder Groups, the booklet should be essential reading for anyone planning or involved with a project." The Testing & Innovation Workstream had been working with the Building Research Establishment (BRE) and holding several workshops to progress the development of draft guidance for standards in mental health product design which, it was hoped, would be circulated for consultation soon.
The NAPICU joint venture Workstream had started work on a project on seclusion with NAPICU, while the Conference Committee had again assisted in creating a successful, interesting, and exciting, two-day event at the National Motorcycle Museum. This year the annual conference, exhibition, and dinner will move to Coventry's Ricoh Arena. The Conference Group for 2019 comprises Jenny Gill, Jeff Bartle, Jonathan Campbell, Wendy de Silva, representing Architects for Health, Chris Dzikiti, representing NAPICU, Katharine Lazenby, an 'expert-byexperience', Dr Faisal Sethi, Russell Burnham, and Richard Walker.
Jenny Gill closed by 'thanking a few people – firstly our Members, without whose continued support and contributions we would not exist'. She said: "Thanks are due also to Joe Forster, who continues to raise the DiMHN's profile, and to support and advance our progress, and to my Board colleagues, for their hard work, support, and contributions in so many ways, both to the Network and to me."
Three directors had retired 'by rotation' – Clive Stone, Cath Lake, and Russell Hogarth. The election process had been completed in September, with interviews led by Joe Forster. The President in turn thanked Jenny Gill and Treasurer, Clive Stone (pictured with Jenny Gill), 'for all their extremely valuable work behind the scenes'.
Other News