Book highlights importance of 'co-production'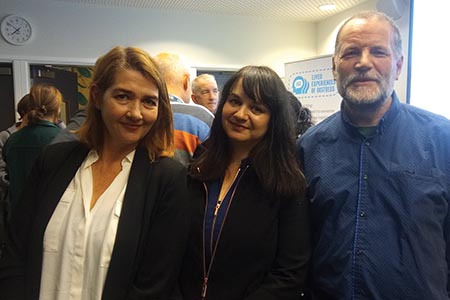 DiMHN was represented recently at the launch of an important new book at London South Bank University.
Joining director, Paula Reavey, and conference group member, Katharine Lazenby, were DiMHN President, Joe Forster, and previous DiMH awards dinner speaker, Jacqui Dillon, an outspoken critic of the current UK mental health system. The Handbook of Mental Health and Space is published by Routledge, and edited by Paula Reavey and co-researcher, Laura McGrath, senior lecturer and Programme leader for the BSc Clinical and Community Psychology course at the University of East London. It 'brings together the psychosocial work on experiences of space and mental distress, making explicit the links between theoretical work and clinical and community practice'.
Joe Forster contributed a chapter, 'Incorporating service-user perspectives and the role of the home environment in mental health design', with co-author, Stephanie Liddicoat, an architectural researcher and Masters Design Studio leader at the University of Melbourne's Faculty of Architecture, Building and Planning. He said: "The book combines service-user experiences of environments with clinical and academic perspectives. It demonstrates how these interests are converging. Service-users are increasingly positioned to lead research, with their experiences informing the questions."
He added: "The book also highlights the community as a place where most distress occurs – whether at home, or, for the homeless, outside, and whether the sufferer is integrated with the neighbourhood or alone with nature. Paula Reavey, together with fellow director, Jeff Bartle, lead DiMHN's Research and Education workstream. They continue to build on their output of an engaging series of brochures and a comprehensive review of the evidence. We are proud to have access to the highest level of academic and industry knowledge, together with the most focused and challenging voices of experience."
Pictured, left to right, at the launch are: Jacqui Dillon, Paula Reavey, and Joe Forster.
Other News