Development of mental healthcare product standard progressing well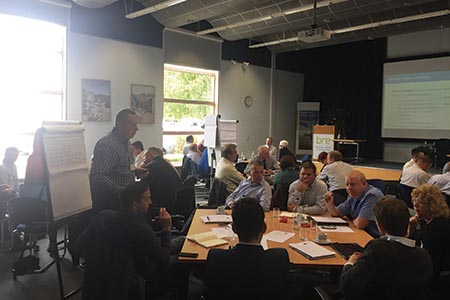 The DiMHN and BRE's joint work to develop a fitness-for-purpose standard for products used in mental healthcare settings is progressing well, with the goal being a launch at this year's DiMH conference.
Following the two organisations' signing last May of an agreement to deliver a draft standard, stakeholder workshops were held to better understand the necessary performance requirements – in areas ranging from robustness and security, to safety, acoustics, and aesthetics. The workshops also captured information on the use/misuse of products by serviceusers – for instance looking at why misuse occurred; the tools used; failure modes; whether damage resulted in secondary issues; timescales; whether 'issues' revolved around a single, or a combination of, products; the impact of wear and tear; staff interventions, and use of products in different spaces. The DiMHN and BRE have also collected 'a definitive list' of existing standards, guidance, and policies used to define product performance, 'to help build up a picture of the requirements for different products and for defining tests methods'.
The workshops saw over 50 organisations participate, with the information gathered 'pulled into a matrix of themes which brings together all the collective knowledge captured'. With this process having started to define the performance requirements for each product, the product performance specifications were then used as the basis for two further workshops, at which mental health clinicians helped fine tune the DiMHN's and BRE's understanding of the product performance needs.
The DiMHN and BRE said: "This has given us a better insight into mental health performance, highlighted a number of source documents that give us a better understanding into the physiology of people, and given us access to medical and physiological research into issues around self-harm and injury undertaken by, and shared with, clinician groups. This puts us in a good place to start writing the standard."
Most recently, the DiMHN and BRE have begun reviewing all the existing standards, guidance, and policies used to set or assess mental healthcare product performance, and 'decanting' all the relevant information into a master document, which will eventually underpin the new standard's development.
When complete, the standard will:
provide guidance on product performance requirements.
define a unified methodology for testing products used in mental healthcare.
underpin a certification scheme which will ensure consistent product test outcomes from any test laboratory. DiMHN and BRE explained: "The outcome will not be a simple 'pass' or 'fail', but rather a rating scheme to enable commissioners to select appropriate products for different applications."
The goal is to create the first draft of the standard this spring, followed by 'extensive consultation'. Depending on the feedback, the aim is then to launch the standard at May's DiMH 2019 conference.
Other News