A creative approach to problem-solving
Download PDF version of article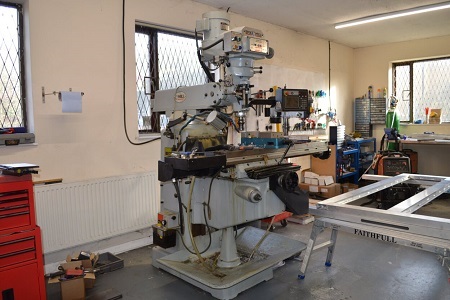 Corby-based Creative Ironmongery specialises in designing and creating 'problem-solving products that save money and deliver exceptional performance, even in the most challenging environments'. The company claims to be 'revolutionising standards in architectural ironmongery', and, owner, Alan Rees, explains, prides itself on 'addressing challenges' – from customising an existing product for a particular application, to developing a bespoke component that other companies might 'walk away from'. The Network's editor, Jonathan Baillie, met up with him, to find out more.
With today's NHS under considerable financial pressure, cost constraints, and the resulting 'value engineering', may at times result in the selection of cheaper, more 'functional' products for healthcare settings, in preference to more meticulously engineered components that, although costing more initially, could soon 'pay for themselves' via a host of different benefits to patients, staff, and the care environment. In mental healthcare settings, a really well-designed 'bespoke' product – anything from a bedroom door to a furniture item – could also significantly reduce risk of harm, and even save lives. Equally, a stronger, more robust design – of anything from a window clutch to a soap dispenser – will enable the item to better withstand abuse and attack, and thus last longer, while simultaneously saving time on maintenance.
Cheapest by no means best
Alan Rees, the MD and owner of Creative Ironmongery – which sells many of its products into acute and mental healthcare settings – is generally strongly against opting for the lowest cost option, as he explained when I met him. He said: "I believe far too many purchasing decisions today are based purely based on initial cost. Many manufacturers know the constraints that their buyers are working within, and thus deliberately develop products that come in at a certain price point. Then they will wax lyrical about the product's good points, while ignoring its shortcomings. I understand why buyers make the decisions they do, but it makes little sense to me that their thinking is so often short-term. What really frustrates me though is that even when a product has failed, the same item is used to replace it. Why give it another chance?
"In architectural ironmongery, and particularly in mental healthcare facilities, a failed product can have life-threatening repercussions, yet many estates managers continue making the same mistakes when sourcing replacements. They'll often be told there isn't an alternative, and may not have the detailed knowledge to challenge this. I've lost count of the times I've been approached with a very tentative query – would it be possible to develop something to address a particular problem? It might be tricky, it might be straightforward, or it might already be in our range, but it's rarely something we can't sort out."
When I visited Creative Ironmongery's Corby base, it rapidly became clear that as a traditionally trained engineer, who honed his early skills during an engineering apprenticeship in South Wales, Alan Rees is both a problem-solver, and a firm believer in manufacturing architectural ironmongery products characterised by an attention to detail and craftsmanship that he feels are in short supply today. He also enjoys both adapting existing products – for instance vision panels – to enhance their performance, durability, functionality, and longevity, and, in the process, addressing what he views as deficiencies in their design, and developing new components 'from scratch'.
Later in my visit, he showed me a number of Creative Ironmongery's biggest-selling products, explained how the company's engineering expertise had been harnessed in developing them, and highlighted the material properties and meticulous design and manufacture that he says give them their superior performance. Firstly, however, he put his business philosophy and custom engineering expertise into context by discussing his earlier career, and explaining how he went on to establish Creative Ironmongery in 2017, preceded by another architectural ironmongery business and a company supplying ceramic materials to the education sector.
Early interest in craft skills
Growing up in Port Talbot, he explained, he enjoyed metalwork, woodwork, maths, and physics, at school, explaining why, as he put it, 'I am more technical and innovative in my approach'. He said: "When I was at secondary school, Port Talbot had Europe's biggest steelworks. As it transpired, however, British Steel didn't offer me an apprenticeship there; instead I did a four-year apprenticeship at Metalbox in Neath, a company widely regarded as running one of the best engineering apprenticeships in South Wales." MetalBox, a leading manufacturer of metal cans (now CarnaudMetalbox Engineering), put him through 'a first-class apprenticeship' as a cutter, turner, and toolmaker. "Unfortunately," he explained, "we were the first intake in the company's history to be made redundant – due to the recession biting in South Wales. Thereafter, I got a job as a quality control inspector with Delair in Ammanford, which produced car heaters and air-conditioning units. The Quality Control Department didn't like me much though, because I was extremely particular about ensuring that every component was manufactured to the highest standards."
A freer rein
Fortunately, he was soon able to transfer to the company's prototyping engineering workshops, where he 'loved every minute'. He said: "In Prototyping I had a much freer rein. The design engineers would ask me – as a prototype craftsman – for advice on whether particular components could be made. They'd produce a drawing, and I'd make whatever they had come up with. When I started I was quality control inspector for Jaguar Cars, and worked on components for them for some 18 months. I later dealt with Jaguars, Fords, Volvos, and DAF trucks – a good mix of engineering challenges, undertaking work that really developed my design, crafting, moulding, and machining skills with a variety of metals and plastics."
His next job took him into architectural ironmongery. He explained: "My father was a builder's merchant's man for most of his career, having started as an apprentice ironmonger. He convinced me that with my technical knowledge, I should become a sales representative for the same company, 'DB's, owned by Blue Circle. On becoming a sales 'rep', I soon discovered though that builders are not always the most accurate or knowledgeable people, and, finding it difficult to deal with them – due to their lack of finesse – I began developing my own customer base."
Training agency business
He rapidly picked up accounts from many of the area's construction sector training agencies, and from hospitals as far afield as Aberystwyth. He explained: "At that stage I was still working for DBs, but Blue Circle then sold the business to a company called Robert Price in Abergavenny, and I worked for it for a short period." Not enjoying his time there, however, Alan Rees then started his own business, but not, as he explained, under its current name. He said: "For the past 20 years I have often struggled to get the builders' merchants, architectural ironmongers, and locksmiths, to look at buying my product, because they all think I am a competitor, whereas – as you can see from my portfolio – there is no architectural ironmonger in the country capable of doing what we do here. I had always wanted to manufacture and distribute product. Recently, working with a marketing consultant, we recognised that the brand name should indeed be 'Creative Ironmongery', because much of our architectural ironmongery is genuinely quite creative."
On leaving Robert Price, and in collaboration with his sister, he established and ran two separate business, Systembox Ceramic (SC) Supplies, supplying plaster products to the education sector for sculpture tuition, and an architectural ironmongery business, Systembox. The latter mostly supplied standard products to the acute and mental healthcare sectors UK-wide, as well as to Jersey, France, Peru, Canada, and the US. He explained: "Up until four years ago, we were based in South Wales, and in essence purchased other architectural ironmongery products and sold them. I did, however, modify and enhance some existing designs."
Move to Northamptonshire
SC Supplies continued operating in Port Talbot until 2014, but, for personal, legal, and practical reasons, and the sudden death of two shareholders, the company was liquidated. Alan Rees had already moved from South Wales to Corby; he liked the area, and favoured its central location. "On moving here," he explained, "my wife, Helen and I established a new architectural ironmongery business, which we have since run, latterly with the brand name, Creative Ironmongery, with the dual aims of continuing to supply other manufacturers' products, and developing our own range for a select range of long-standing customers.
"Our customer base – particularly among NHS Trusts – has since continued to push for new product development." Once In Corby, Alan Rees planned initially to undertake all his new product design and development in a workshop in his house, which he still uses. However, having in August 2016 identified a small industrial unit in Corby in, taken a lease on it, and moved a new CNC press brake into it, the opportunity arose to purchase an adjacent larger building, which now houses the company's offices, administrative functions, a meticulously well-organised and stocked 'stores' facility, and production facilities.
Let down' by local fabricators
Alan Rees explained: "We decided to lease the first building after discovering that local fabricators couldn't produce the components to the standard we required. Our machining is still undertaken by companies in South Wales. When we moved here I initially had no staff, but I knew I needed a press brake, and bought an extremely high quality Amada eight-axis CNC press brake, used for bending the various metals. I had to teach myself to use it, and, soon after buying it, realised that we needed an extensive range of tooling, at a cost of around £25,000. With the press brake we can bend up to 12 mm thick stainless steel."
Once business began accruing, he recruited a small team of experienced engineers and other staff, and his team is now five-strong." He explained: "With demand for custom-manufactured products increasing, we plan shortly to move the press brake from the smaller to the main unit, where all the manufacturing processes bar machining are undertaken. Our existing equipment includes a CNC lathe, a CNC milling machine, and welding equipment. "As an Abloy Disklock Pro and Abloy Protek dealer, supplying masterkey cylinders," he continued, "we also have key machines, and in fact I have designed components to work with most of the major lock manufacturers' cylinders, such as a robust clutch turn for mental health applications." This, he explained, is designed to fit any commercially available cylinder, has a corrosion-resistant brass or aluminium body and mounting plate, and an infinite clutch pressure 'that allows variation to suit any proprietary lock case'. Existing masterkeyed cylinders can be converted using an extension ring, while the clutch turn – 'engineered to reduce ligature and barricade risk' – can be fixed to give permanent drive when used as a pair of knobs. It is affixed with two M5 bolts for increased durability, and can be supplied in custom sizes as a retrofit replacement for failed turns.
Large volume capability
Creative Ironmongery is proud of its expertise in custom design / manufacture, but I wondered whether, as a small business, its production facilities would enable it to produce large numbers of a product, should, say, a large hospital require them. Alan Rees explained: "We can indeed fulfil sizeable orders. A few months ago we supplied Mill Lodge, a mental healthcare facility in Leicestershire (see panel, page???), with 250 wall access panels which facilitate access to shower and toilet valves." Alan Rees stressed that today the company is increasingly keen to focus on developing its own products, whether to meet specific requests, or simply to expand its range. He said: "Sales of our own products accounted for about 85 per cent of our turnover last year. Many go into healthcare settings, but, for example, our Creative Pull Handle – developed for any environment where user safety is key – is also popular with schools."
A wide-ranging portfolio
As detailed in the company's 2018 Product Catalogue, the wide-ranging Creative Ironmongery portfolio ranges from pull handles, pivot protectors, and clutch turns, to vision panels, spring adaptor plates, and a ligature-resistant window trickle-vent, which allows ventilation in service-user bedrooms where window opening is restricted. Other items presented include an impact, aerosol, and liquid-resistant TV cabinet, a robust anti-ligature soap dispenser, an Espag window handle for use where standard such handles are not suitable due to safety considerations, and a Cockspur Ligature Resistant window handle 'with a sleek, simple style', designed to minimise ligature risk, operable by a key-holder.
'Weaknesses' in vision panels
Alan Rees had already explained that he and his team's expertise in crafting metals and plastics enables the company to often take existing, widely used products like handles and vision panels and improve upon the design. "Take vision panels," he said, "and deficiencies in even some of even the biggest-selling one can include weak cam turns – which break too easily. Thereafter, not only will the panel not turn, but if a distressed service-user gets hold of a broken-off handle they have a viable weapon." Creative Ironmongery's vision panel is designed to address such 'failings', and has a durable stainless steel frame secured by anti-tamper stainless steel screws. The wideness of the frame reportedly reduces the chances of it being forced out of the aperture. The glass has a Grade A industry standard impact rating, and the panel is operated via a 5 mm 'radiator type' key, with an anti-ligature knob on the client side which can be clutched to prevent a service-user forcibly controlling the panel function.
Creative Ironmongery emphasises that it offers one vision panel size suitable for retrofit into standard non-fire rated or 30 or 60-minute fire doors, meaning users can reduce stock levels. Other features include suitability for use with proprietary bead sets – with timber or MDF bead sets available to suit different door thicknesses, and a standard powder-coated wood grain finish, or the option to select satin stainless steel, white, and black finishes 'ex-stock', or a powder-coated finish to any RAL colour. The panels will operate in any orientation, have concealed frame fixings, and are designed to minimise ligature risk. Alan Rees said: "Another key selling point is the rigidity of the blind mechanisms; the aluminium blinds will not rattle or easily become dislodged – an issue with some competitor products."
Toughened and fire-rated
The panels feature 10 mm toughened glass on the corridor side, and 18 mm Pilkington Pyrostop Glass on the service-user facing, affording 'a guaranteed' 60 minutes' fire protection even if the toughened laminated glass breaks. Alan Rees said: "In fact in Pilkington's own tests, after 67 minutes the doors were destroyed, but my standard vision panel still had two panes intact. I can sell our vision panel, with all its features, for around the same price as competitors' standard such panels." He added: "I was aware, when developing my vison panels, that several competitor suppliers would only sell, say, a mental healthcare facility complete new panels despite perhaps just one part – often the glass – being broken or. I thus quire regularly repair panels for healthcare customers."
Another product with a distinctly individual design is Creative Ironmongery's Creative Pull Handle. Alan Rees explained: "We now offer three such pull handles, including a recessed variant. Look at competitors' handles, and they have sharp edges, and are not very deep, so are non-ergonomic and can be difficult to use. Our stainless steel Creative Pull Handle, secured by anti-tamper bolts or screws, is much deeper, and has smooth edges; the ergonomic Easi-Pull design makes it much easier to handle, and thus well-suited to use where reduced strength or dexterity are considerations." As standard, the handles are fitted to both sides of the door, and are available in opposite handing for single wing doors. They can be manufactured with a profile cut-out, 'to accommodate any proprietary cylinder or lock case drive', and with an indicator, for example for washroom use.
Protecting pivoted doors
We next looked at a Creative Ironmongery Pivot Point Protector, designed, as the company puts it, 'to save the door, and save a fortune'. Alan Rees explained: "Again, these are manufactured in high strength stainless steel, to fit onto new or broken pivoted doors. By providing excellent protection to the pivot points, they can save, say an NHS Trust with many such doors, considerable sums by preventing breakage." They allow simple adjustment of fittings such as an automatic door closer, and are 'quick and easy to fit' to new doors, or to retrofit, being affixed over the top and bottom pivot points 'without compromising pivot protection'. Fire tested to BSEN1634 at 30 and 60 minutes, and supplied in stainless steel as standard, they are also available in polished stainless steel, brass, and polyester powder-coated finishes and RAL colour finishes to order." Alan Rees said: "Often the only viable alternatives with doors with broken pivot points are to buy a new one, or fit an aluminium gear hinge, which doesn't tend to look very homely."
Alan Rees described how he was called one day by an NHS mental healthcare facility in Northampton, where the estates team was aware of Creative Ironmongery's lifetime guarantee against faulty manufacture on many of its own products, but was experiencing regular breakage of its pivot protectors, which the Estates team believed he had supplied. He elaborated: "I visited the facility to investigate, and found that the pivot protectors I had produced had been copied, and, despite bring stainless steel, were all breaking. To try to circumvent the patent, the supplier had changed some of the design, resulting in a weak, unfit for purpose product. We thus supplied the unit with our pivot point protectors, and they have experienced no similar breakage. Over the years I have seen many examples of poorly or ill-conceived designs in products destined for healthcare use, which has given my team and I plenty of scope to re-design."
Simple but effective design
Another Creative Ironmongery product with an emphasis on a simple but highly effective design is the company's 'high strength' stainless steel Flush Bolt Protector, again suitable for both new and existing doors. Alan Rees explained: "With pairs of doors, you have a bolt flush locking the sleeve leaf off, and if, say, a trolley hits one of the doors, the bolt is easily displaced. The Flush Bolt Protector works similarly to the Pivot Point Protector, but for flush bolts, but is fitted to the door vertically, rather than horizontally. The device is proven to extend timber doors' durability, and we can now offer it with a pre-fitted flush bolt – which we weld into the stainless steel, to greatly reduce the risk of breakage."
With their highly robust design, many of Creative Ironmongery's products find their way into mental healthcare – for example a stainless steel paper towel dispenser, again 'extremely durable', and thus well suited to environments such as seclusion rooms and '136' suites. Alan Rees originally developed it for St Andrew's Healthcare. He said: "Alongside its durable construction, the front plate acts as mirror, eliminating the need to install another in a service-user's bedroom." Creative Ironmongery also offers a stainless steel 'anti-vandal, anti-ligature' soap dispenser, designed for recessed installation, with a lock manufacturable to suit existing masterkeyed suites. A locked access facilitates routine maintenance and replacement of soap refills.
Pricing
I asked Alan Rees whether, given the engineering expertise that he and his team harness in designing Creative Ironmongery's own architectural ironmongery products, he can always keep prices comparable to those of his competitors. He said: "Some of our components are a little more expensive, but I never copy competitor products; all our ideas are original. If somebody presents me with a particular architectural ironmongery problem I will look to solve it, and, where possible, to improve on existing designs. For instance my vision panels work on similar principles to those from mainstream manufacturers, but should prove more reliable and durable thanks to features such as a metal cam, stainless steel drives onto the cam, and the clutch turn being held together from the inside, rather than screwed on externally."
Alan Rees explained that while not all Creative Ironmongery's architectural ironmongery products are anti-ligature, the majority are 'pretty ligature-resistant'. He said: "What I cannot understand is that with all the focus on 'anti-ligature' for mental healthcare, specifiers often don't consider some of the key risk-posing door components. The bolt, for instance, is generally the strongest element, and a potential ligature point, yet people are making and installing anti-ligature doorsets, passed to the highest criteria, when the doors incorporate a bolt that could accommodate a tonne. How can these doors not be tested as a set?"
Routes to market
I asked about the company's routes to market. Alan Rees explained: "In fact we both manufacture products for other architectural ironmongery suppliers and for our competitors, as well as developing our own, often bespoke, components, which we can either sell direct, or through distributors."
Another bespoke in-house developed product suited to mental healthcare is Creative Ironmongery's TV Cabinet, again originally developed at a customer's request. Reportedly lightweight enough for single person installation, its design facilitates positioning of the television mounting plate and cabinet surround. The cabinet will accommodate televisions up to 80 mm deep, and is available in four standard screen sizes, with others available to order. The patent pending cabinet is designed to protect against liquid or aerosol damage, with a polycarbonate screen up to 12 mm thick and a durable metal surround. A high security screen lock can be matched to an existing masterkeyed suite.
Testing process
I wondered how Creative Ironmongery tested its products. In fact it has a first floor area where it can mount products in the wall and 'attack' them, identify any weak spots, and look to improve them. Alan Rees said: "While we don't formally have all our products tested by an external test house, we have sufficient knowledge and expertise to be able to quickly identify existing design flaws, and address them. Our philosophy, in designing products at the market's more premium end, is to think, 'If I was a mental healthcare unit's estates manager, would I happy with a standard steel die cast pull handle, which will corrode, or would I prefer a one-piece stainless steel handle, available in any size, and for example, with Euroslots incorporated, customised to look exactly as required?'"
Future plans
With the company's turnover having increased significantly year-on year since its establishment in 2016, and no sign of demand slowing, I wondered about any imminent expansion or equipment purchasing plans. Alan Rees said: "We are looking at extending the building sideways, potentially by a further 4,000 ft2, as well as at moving the CNC press brake into the production area within the main building. We will also be creating a seminar and showroom, but for existing or potential customers keen to see or sample a product who cannot get to us, we are happy to dispatch one."
As our discussions closed, I wondered what Alan Rees felt were the major factors that marked out Creative Ironmongery from its competitors. He said: "I believe it's a combination of things – a unique approach to design and development, very substantial expertise with a range of high quality metals and plastics, and greater attention to detail and creative thinking than some of the bigger manufacturers. Such is the confidence we have in our range that nearly every product also comes with a lifetime guarantee."
Other News