'Tilt-only' blinds and a highly professional service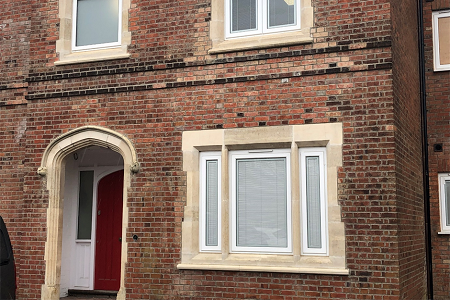 'Tilt-only' magnetic blinds from BetweenGlassBlinds have been fitted to specialist flats recently created at a 'high dependency' mental healthcare facility home in Bushey in Hertfordshire. The specialist unit helps people dealing with varying levels of mental illness. On site, residents live semi-independently, while receiving intensive specialist care from trained mental health workers. As part of the creation of a number of new, specialist flats, BetweenGlassBlinds supplied tilt-only magnetic blinds for fitting to all the external windows by window supplier and fitter, Window Care Herts. As an increased safety measure, the integral blinds were fitted between specially toughened, clear laminated glass. BetweenGlassBlinds worked with the window installer's team to ensure that the magnetic blinds could function smoothly through thicker glass, with technicians from both companies visiting the site to make bespoke, on-site adaptations to the integral blinds. The magnetic blinds are operated via a neat and unobtrusive sliding magnetic block located around the perimeter of the unit, on a completely cordless system.
On this project, BetweenGlassBlinds was asked to make the magnetic block detachable so that only staff could operate the blinds, and patients could be protected from any unforeseen dangers. This was a simple task for the technical support team at BetweenGlassBlinds. The blinds' design – locked between the two panes of glass – protects them from dirt, damage, and grime – 'making maintenance and upkeep very simple'.
The company said: "In healthcare establishments, these blinds provide the perfect solution when privacy is needed, and to address infection control concerns that non-integral blinds can present." Paul West, MD of Window Care Herts, was extremely pleased with the products from BetweenGlassBlinds, and described the team at BGB as 'professional and supportive' and the technical staff as 'full of knowledge'. He said: "This was a complex project, but we were really pleased with the finished work. We were there to fit windows and doors at the site, but our brief was complicated further when we were asked to adhere to greater safety requirements.
"The glass had to be specially toughened laminated glass, which meant the magnetic blinds needed some adaptations. None of these issues caused us a problem – mainly thanks to BGB and its team of technical staff. They visited the site and worked alongside us so we could complete the project without any issues. I was very impressed with BGB. Over the years I have worked with other companies who provide blinds that fit between glass, but we've never received this kind of expert service."
Other News