Faster, adhesive-free flooring solution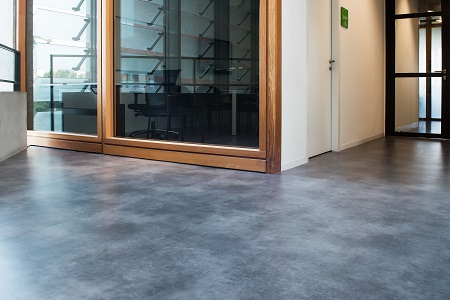 Forbo Flooring System says that while the problem of damp subfloors is 'a general 'issue' in the construction market, the current flooring solutions available 'result in a long, complex, and costly installation process'.
In response, it has launched 'a new easy, economic, and hassle-free solution which can be installed directly onto damp subfloors' – Modul'Up TE. Forbo launched its adhesive-free sheet vinyl collection, Modul'up, in 2018, but has since continued to develop a version suitable for installation over damp subfloors with up to 97% RH. The company explained: "The result is Modul'Up TE, which delivers all the benefits of the Modul'up Compact range, but with the advantage of Forbo's Aqua Block embossed layer, which allows a direct loose lay installation on damp subfloors. The Aqua Block layer enables the subfloor to breathe, and directs the moisture to the periphery of the room, rather than up through the floor covering itself, which can cause damage."
Garry Bateman, head of Technical Sales at Forbo Flooring Systems, said: "To ensure that moisture is dissipated correctly in a room we have also designed an easy-to-fit, breathable skirting for use with the new range. As installing Modul'Up TE requires no adhesives, downtime is reduced significantly; the floor is ready for use as soon as it has been installed. In fact, the total time required for a 100m2 installation – including the waiting time before furniture can be placed back on the floor – is one day for Modul'Up TE, compared with other existing solutions which can take several days."
The range is available in a choice of six contemporary designs, with either a wood or mineral embossed finish.
See more about Forbo Flooring Systems
Other News