Flexible and reliable' roof membrane for the Unity Centre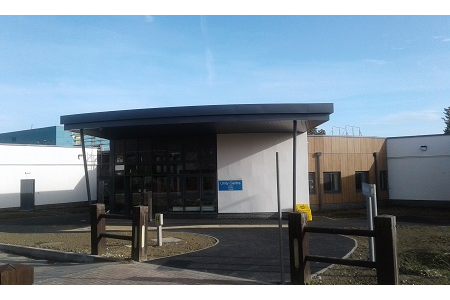 Sika-Trocal's 'flexible, durable' Type 'S' membrane has – its manufacturer says – 'provided the ideal waterproof solution' for a large and complex roof installation at the Unity Centre, a new extension to Wakefield's Fieldhead Hospital which incorporates facilities including a range of adult and elderly acute inpatient accommodation, a psychiatric intensive care unit, and a Section 136 area. Completed in two phases, the extension was built to provide additional patient accommodation. The project's first phase, completed in July 2017, saw the installation of Sika-Trocal's Type 'S' waterproof system across a 2,000 m2 area of roofing. The manufacturer says the 2 mm-thick, mechanically fastened, single-ply membrane's 'renowned adaptability' was ideal, as it had to cover a number of intricate roofing details.
Selected by Interserve Construction to install the waterproofing, FCB Roofing installed the slate grey Type 'S' membrane to 400 mm-thick tapered insulation. This accommodated the roof's intricate multi-directional design and various falls. For the roof's 2-metre verticals and curved areas, Sika-Trocal parapet trim provided a crisp, uniform finish.
The on-time completion of the waterproofing aspect of the project's first phase meant patients could occupy a good proportion of the new building without delay. Waterproofing work on the second phase began in September 2017. The new building's entrance presented a different installation challenge with its fan-style, five-tier roof. Again, the Type 'S' system's malleability 'proved crucial in an application of such complexity'. The remaining 2,000 m2 area of roofing was completed to deadline in September 2018.
Tony Comrie, Contracts director at FCB Roofing, said: "I don't know of any membrane other than the Sika-Trocal Type 'S' that would have been suitable for this project. It helped simplify a challenging installation. Its flexibility was essential to the waterproofing being finished on time, to the highest standard."
Other News