'Green light' given for new £105.9 m Manchester mental health unit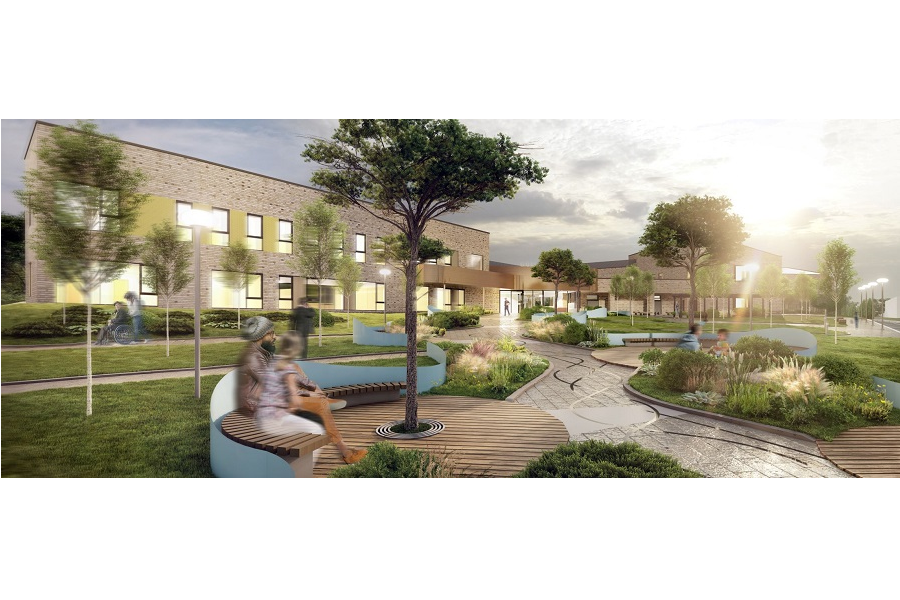 Final approval has been given for Greater Manchester Mental Health NHS Foundation Trust (GMMH) to build a new adult mental health unit at North Manchester General Hospital (NMGH).
On 11 November, the UK Government formally approved the Full Business Case (FBC) to release the necessary capital investment – the final approval needed to allow construction to start. This follows approval of the FBC by both the Department of Health and Social Care, and NHS England & Improvement, on 30 September. The £105.9 million 'state-of the-art' unit will replace the current Park House mental health inpatient unit situated at NMGH. Of the monies needed, £91.3 m will be funded by central government, with the remaining £14.6 m funded by the Trust. The project forms part of an exciting vision for North Manchester General Hospital to improve health and wellbeing for local people over the next 10 to 15 years. Work has already begun to clear the development site, with demolition works due to start imminently, and scheduled for completion by the end of March 2022. Construction work is due to start next April.
Park House is an adult and older people's inpatient unit that provides assessment and treatment for depression, schizophrenia, psychosis, and dementia. GMMH became responsible for the delivery of services there in 2017, and with its outdated dormitory-style accommodation and limited outdoor space, immediately recognised it was a priority for improvement. The Trust has since 2017 invested over £3 m in refurbishments and enhancements to improve facilities and the environment there.
The new 'state-of-the-art' unit will incorporate spacious single bedrooms with private en-suite bathrooms, a variety of indoor activity areas, and multiple outside garden spaces. The Trust says the facilities will 'utilise the latest technology and therapeutic design to ensure an environment that is both conducive to recovery and pleasant to live in, work, at and visit'.
Plans for the development include:
150 single en-suite bedrooms, over nine single-sex wards. This will include a purpose built Psychiatric Intensive Care Unit (PICU), seven adult acute wards, and one older adults' ward.
An assessment suite (specifically for people needing a place of safety and assessment under Section 136 of the Mental Health Act).
A variety of internal activity areas and multiple outside garden spaces.
Throughout development of the FBC and design process, GMMH engaged with service-users, staff, carers, and the wider North Manchester community, alongside key stakeholders from the wider health and care system.
Minister for Mental Health, Gillian Keegan, said: "Every person receiving treatment deserves to be treated with dignity and respect, and I am determined to ensure that everyone who needs help can access high-quality care in a comfortable environment. This upgrade is one of 20 major hospital upgrades we are building, with an £850 m investment, and it is testament to our mission to remove dormitory accommodation from mental health facilities – a commitment backed by a further £400 m. More widely, we are transforming mental health services in England with an additional £2.3 billion a year by 2023/24."
Neil Thwaite, CEO at GMMH, said: "We are absolutely delighted to have received government approval to go ahead with our ambitious and exciting plans to build a new mental health inpatient unit for Manchester. Every step of the Full Business Case and budget approval process has led us closer to achieving our vision, and we are thrilled to have now been given the final go-ahead.
"The new unit will transform the mental health inpatient experience for our service-users, their families, and our staff in Manchester. It will allow us to provide the best possible specialist mental healthcare in a cutting-edge building that offers a pleasant and therapeutic environment for all. Work has already started on site to clear older buildings ready for the main construction phase next year, and we estimate the new inpatient unit will be open for patients in 2024."
The new unit will be built at the same hospital site, but in a different location, meaning current patient care and treatment will not be impacted during construction.
Other News
Featured Supplier


Pinpoint are UK leading developers of high performance Staff Attack Alarm Systems, designed to suit environments where staff are at risk of violence in the workplace.
With thousands of systems installed internationally and offices in Scotland, England, Ireland and USA, Pinpoint continue to provide unrivalled products and services that...