Cladding lends calming appearance to new Cygnet Hospital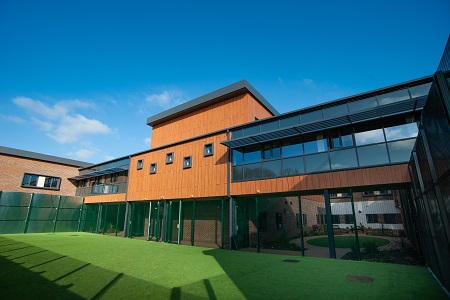 The new 65-bed Cygnet Hospital mental healthcare facility in Maidstone has been clad in Abet Laminati's MEG self-supporting exterior grade laminate. Some 800 m2 of MEG cladding in a 754 Padouk Soft finish were installed by Rhino Exteriors across various elevations. MEG was chosen as it carries a BBA Agrément Certificate and, most importantly, F1 panels from 6 mm and thicker are rated Class B-s1, d0. This makes them fully compliant for all non-residential applications and for buildings up to 18 m high for residential schemes.
Abet Laminati said: "This application is a perfect example of high performance MEG in action – where the need for high performance and durability is married up with low lifecycle costs and aesthetic design." The range comprises 58 colours and 31 woodgrains, together with five concrete and metal effect finishes. MEG can also incorporate Abet's digital printing technology, meaning that 'almost any' design, photograph or pattern can be reproduced 'in stunning detail', to give architects and designers 'unparalleled freedom to create unusual and dramatic building facades'.
MEG is a self-supporting high pressure laminate for cladding the exterior of buildings, balconies, and other applications. It offers high resistance to temperature, climate shock, weathering, UV light, and impact. Abet says its chemical-resistant nature and closed structure do not allow spray can paint, various inks, emulsion paints, lipstick, or pastel paints to penetrate the decorative layer, which both negates the need for anti-graffiti treatment, and simplifies cleaning.
Other News