Making cities 'friendlier' for all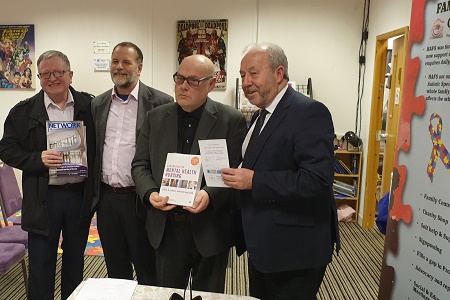 Speaking at the recent Futurebuild 2019 event in London, architect, service-user, and past-director of the Design in Mental Health Network, Dr Rob MacDonald, tackled issues faced by people living with dementia, and highlighted the Network's contribution. Addressing delegates under the heading 'Making Friendlier Cities for All', he and his co-presenters addressed urban environments that must serve different age groups.
From the platform, he characterised the example of DIMHN as a compassionate and sensitive champion of mental health needs. DiMHN President, Joe Forster, who heard him speak: "Our age, from childhood to senior citizenship, can change our perception of place. The key challenge is to make cities become friendly places with which all generations can engage. One powerful point from Rob was that when seen from the height of a child or a homeless person sat on the street, dramatic differences occur in the experience of pollution, wayfinding, and interaction with community and infrastructure."
Dr MacDonald also referred to his involvement in the design of the 'dementia-friendly' demonstrator house at the Building Research Establishment. In that project , he facilitated the participation of people with dementia. Jo Forster explained: "Alongside a distinguished academic career (he is Reader in Architecture at Liverpool John Moores University), Rob has come to experience his 'life world' through his own bipolar condition, not as a disability but rather as a vital perspective. This was richly borne out during his tenure as a past director of DiMHN."
At another recent event in Halton, Cheshire, Dr MacDonald presented a copy of the book, Essentials of Mental Health Nursing, to directors of Halton Autistic Family Support Group (HAFS). In the chapter he co-authored with Joe Forster, HAFS is described as 'an exemplar of user-led services'. Run by and for families affected by the autism spectrum, HAFS now provides significant support to well over a hundred families, and receives referrals from statutory providers. Pictured, left to right are: HAFS development manager, Ciaran Shanahan, Joe Forster, Dr Rob MacDonald, and HAFS chairman, Mike Fry.
Other News