Autism centre's flooring met multiple demands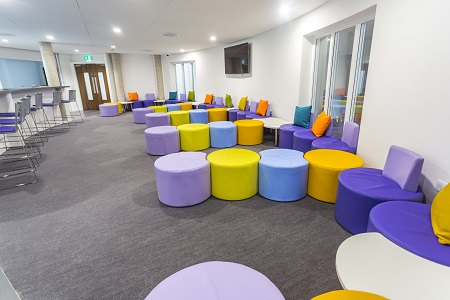 Forbo Flooring Systems' Flotex Penang flocked flooring has been installed at the Caudwell International Children's Centre (CICC) at Keele University Science and Innovation Park, the UK's first independent purpose-built facility dedicated to autism diagnosis, intervention, and research. Forbo says the flooring's 'subtle aesthetics and tactile nature' will help create a calming and easily cleanable environment for children with autism and neurodevelopmental conditions within the Centre, which was designed through a close working partnership between the charity's CEO, Trudi Beswick, and Cheshire-based architects, C4 Consulting. Shaped in 'a butterfly figure of eight', the Centre houses a variety of multi-functional spaces, including assessment suites, a sensory integration room, and teaching kitchens.
James Pass, director and architect at C4 Consulting, said: "Our extensive research into the causes and effects of overstimulation for children with neurodevelopmental conditions and their coping mechanisms, and Trudi's unique insight and invaluable input, enabled us to look into how we could design functional, safe spaces, while reducing distracting stimuli.
"We took into consideration that colours and patterns can be a significant source of overstimulation, and even anxiety, for children with Autism Spectrum Disorders. Overtly patterned floors can be distracting to walk over, and lead to fixation or even confusion. We had to ensure that any patterns in the floorcoverings were minimal, and that any repetition in the pattern was not discernible.
"Trudi's previous experience as a designer, combined with our joint research into the effects of colour and texture, identified that pastel colours were associated with a calming effect for the children, while greys were considered neutral. We looked to keep to those colours wherever possible. The challenge was to find easily cleanable, resilient, and subtle patterned flooring for use in multiple locations that met stringent Building Control and HTM standards."
Forbo's flocked flooring, Flotex Penang in Grey, was installed throughout the public area – in the assessment suites, meeting rooms, and family areas. The semi-plain Penang design from the Flotex Colour range offers 'a subtle linear effect with no pattern repeats'. Forbo added: "Its unique construction provides the comfort and warmth of a carpet, combined with the cleanability and durability of a resilient floor."
James Pass continued: "There were a number of considerations, alongside colour and pattern, that contributed to the flooring specification. Caudwell Children is working towards receiving NHS referrals, so the Assessment Suite areas needed to meet specific HTM standards. The flooring needed to be easy to clean, and to have 'minimal jointing. Flotex was ideal, as it comes in a 2 m wide roll, so it could be easily installed in the designated areas, while its subtle, non-repeating pattern was crucial due to the children's perception of their environment.
"We also had to meet Building Regulations Part E and the BB93 requirements governing audio privacy and reverberation, both significant distracting stimuli to children with neurodevelopmental conditions. We actively looked to exceed all current acoustic requirements for room-to-room sound transmission and reverberation. Flotex sheet offers up to 20 dB impact noise reduction, and helped reduce reverberation times in the key areas. While traditional carpets may have been able to offer this, they would not have been easily cleanable or available on a roll, which was critical for HTM compliance."
Forbo's Allura Wood Luxury Vinyl Tile in Blue Pastel Oak was selected for the main corridors of the public area. The assessment suites and breakout spaces lead off from the corridors, so the variation of flooring would allow the children to differentiate each space and identify their direction of travel.
See more about Forbo Flooring Systems
Other News