Protect the user, fitting, and budget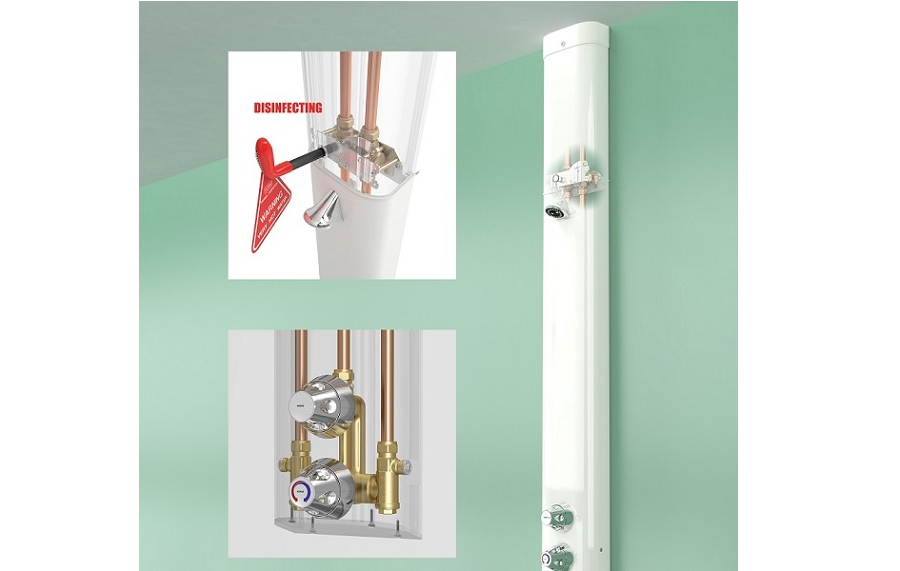 In mental rehabilitation settings, a shower should assist in the delivery of care – providing safe, comfortable warm water for hygiene and wellbeing, while discouraging users from causing intentional harm, either to themselves or their environment.
Where the traditional thermal regime is employed for Legionella control, a shower hot supply pipe will typically carry water around 60 °C – a significant burn risk. Safely enclosed within a Horne pre-plumbed aluminium shower panel, and behind the optional pipe cover, this risk is eliminated, and vulnerable users protected, the company says.
Meanwhile, Horne shower panels feature a healthcare-approved (Type 3) integral thermostatic shower valve – ensuring accurate, consistent, and reliable temperature control, irrespective of water demands elsewhere in the system. Horne said: "Users will experience a safe, comfortable, and calming shower, reducing their inclination for frustrated interference and vandalism. High-grade materials, secure and ligature-resistant design, and quality workmanship, limit the damage users can inflict upon the shower unit, or themselves."
Some models feature the patented In-Line Thermal Disinfection Unit (ILTDU), which allows for the management of retrograde pathogens such as Pseudomonas aeruginosa, 'improving water quality and preventing infection'. Further improvement (Legionella control), by periodically utilising the flushing facility, helps to shear and remove harmful biofilm from the supply pipe internal surfaces.
Horne added: "Fabricated off site, fully pressure and performance tested, the installation is extremely quick and simple: hang, fix, connect, commission, while easy maintenance and low-cost spare parts assist a long operational life."
See more about Horne Engineering Ltd
Other News
Featured Supplier


Pinpoint are UK leading developers of high performance Staff Attack Alarm Systems, designed to suit environments where staff are at risk of violence in the workplace.
With thousands of systems installed internationally and offices in Scotland, England, Ireland and USA, Pinpoint continue to provide unrivalled products and services that...